Commander Delaney Truffault is a recurring character that appears in Season 1 and 2 of Dark Matter.
Delaney is portrayed by Torri Higginson.
Biography
Edit
Delaney Truffault is a Commander of the Mikkei Combine. [1] Her ship is the MCS Murakami.
In Episode Two, Two went to the Mikkei Combine and made a deal with them over the ownership of the Mining Colony so that Ferrous Corp couldn't get it and turn the Miners into slaves. Commander Truffault and Commander Sakey went back to the planet escorting the Raza with their ships. They confronted Commander Nieman, and Truffault informed him the Mining Colony was now owned by the Mikkei Combine. She also informed him that his troops on the planet where in violation of Galactic Charter. Because of this, Commander Nieman and his ship, the FCS Deliverance where forced to leave. The Mining Colony agreed to the deal with the Mikkei Combine, giving them a lease on their planet for 99 years for free.
In Episode Ten, Truffault came to the Raza's rescue when it got ambushed by Ferrous Corp Destroyers. She then asked the Raza crew is they wanted to take a job for her. When the crew accepted she sent them and Wexler's crew to Traugott Corp's Research Facility to steal something for the Mikkei Combine.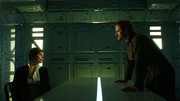 In Episode Fifteen, it is revealed that Truffault was the person sponsoring an immunity deal between the Mikkei Combine and the Galactic Authority for either Two, Three, or Four. After all three had firmly rejected the deal, Truffault paid a visit to Hyperion-8 and had a discussion with Three about the deal and how if any of them took it, the responsibility and blame for the white hole bomb and the destruction of Iriden 3 would shift from Mikkei to Traugott. Truffault tried to convince Three that by taking the deal he would only get his freedom, but also that Three would no longer be a liability to Traugott. Three once again rejected the deal and stood to leave. Truffault then demanded that Three look her in the eye and tell her he was not even going to think about the deal. As Three did, Truffault activated a device that caused her right eye to display green symbols on it, that were then seen in Three's left eye aswell. After Three was returned to his cell, it was revealed that Truffualt had transferred the entire layout of the Hyperion-8 complex in to Three's mind. This information would prove vital in the eventual escape of the Three and the others from the prison.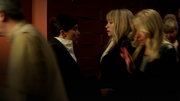 In Episode Twenty-Six, Commander Delaney Truffault helps the Raza crew get into the space station EOS-7. So that they can stop Ferrous Corp from bombing the Council of Corporations. Truffault has Five pose as her assistant to sneak inside. While there Five looks for the bomb. Eventually the bomb is taken care of via Arien spacing himself, while Truffault continues with council meetings. However, it turns out that Ryo has other plans and has EOS-7 overloaded. As explosions start happening around the station Truffault finds Five and they seemingly escape together.
Physical Appearance
Edit
Delaney is tall with short, dark hair. She has dark eyes and a fair complexion.
Appearances
Edit
References
Edit
Ad blocker interference detected!
Wikia is a free-to-use site that makes money from advertising. We have a modified experience for viewers using ad blockers

Wikia is not accessible if you've made further modifications. Remove the custom ad blocker rule(s) and the page will load as expected.